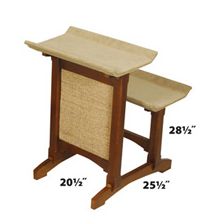 Stylish cat furniture you won't want to hide! Quality feline furniture with a purpose. Build to last, and beautiful enough to fit any decor, the cat furniture offers a beautiful alternative to large cat towers. The cat furniture, stairs and decorative litter box covers offer clean, simple designs you and your cats will love.
Built in the USA, with solid wood construction and wide bases for stability, your kitty will truly enjoy his or her comfortable cat tower alternative. Luxurious lounging areas upholstered in neutral, soft and durable micro-fiber suede fabric allow your cat to be right there with you enjoying this uniquely designed cat furniture.
The beautifully designed litter box cover means you can hide the litter box in plain sight! Will not absorb fluids or odors, cleans easily with soap and water and front panel opens for easy box cleaning. You and your cat will enjoy this attractive alternative to litter box mess!
Do you have a cat that has difficulty jumping up onto your bed or chair? Our decorative stairs offer a stylish solution to senior or disabled cats.